Makedonia Palace Hotel, a proud member of World Hotels
Makedonia Palace Hotel is the first hotel in Greece to be included in WorldHotels' highest distinguished collection –WorldHotels Luxury. With hotels in more than 200 iconic destinations around the world, WorldHotelsTM inaugurates its presence in Greece welcoming Makedonia Palace Hotel into its fold. Makedonia Palace Hotel was chosen in recognition of its quality services, the […]
Makedonia Palace Hotel is the first hotel in Greece to be included in WorldHotels' highest distinguished collection –WorldHotels Luxury.
With hotels in more than 200 iconic destinations around the world, WorldHotelsTM inaugurates its presence in Greece welcoming Makedonia Palace Hotel into its fold.
Makedonia Palace Hotel was chosen in recognition of its quality services, the exceptional gastronomic experience it offers its guests, the innovative practices it follows and
its modern conference and recreational facilities.
With a vision towards the further development of the city's tourism sector, Makedonia Palace Hotel was integrated into the WorldHotels chain, thus reinforcing the city's identity by attracting a new clientele.
Makedonia Palace Hotel has been welcoming guests since 1972, providing unparalleled, luxury services and comforts with the aim of offering its guests "a unique accommodation experience". The menu of the hotel's restaurant Salonica, which is considered among the best restaurants of Thessaloniki, combines haute gastronomy with Mediterranean cuisine. Guests can enjoy a delicious breakfast or meal with a magnificent view of the sea and the White Tower of Thessaloniki. The hotel's facilities also include the largest traditional hammam in Greece, an outdoor pool with a view of the sea, a fitness centre and a sauna.
Makedonia Palace Hotel is known for its exceptional organisation of events and conferences with a 900 square metre Dance Hall and a complete 2,000 square metre Exhibition Centre. The Exhibition Centre can serve up to 1,000 persons and can be divided into four independent rooms.
As the General Manager of Makedonia Palace Hotel, Mr Alkiviadis Sotiriou, said "Our inclusion in WorldHotels places us at an enviable position on the global map of luxury tourism as both a hotel and a destination. We are committed to continuing on our innovative path, with a focus on each guest."
At Makedonia Palace Hotel, guests can also enjoy the privileges of the WorldHotels RewardsTM, the leading customer loyalty club that offers its members special privileges at all of the chain's hotels.
WorldHotelsTM Collection is a chain of independent luxury hotels and a member of the BWH Hotel Group®. It was founded 52 years ago by hoteliers who were devoted to the art of luxury hotels. Its members are independent city hotels and resorts from all over the world that are chosen on the basis of their aesthetics and quality services that offer guests a unique life experience and bring people and places together.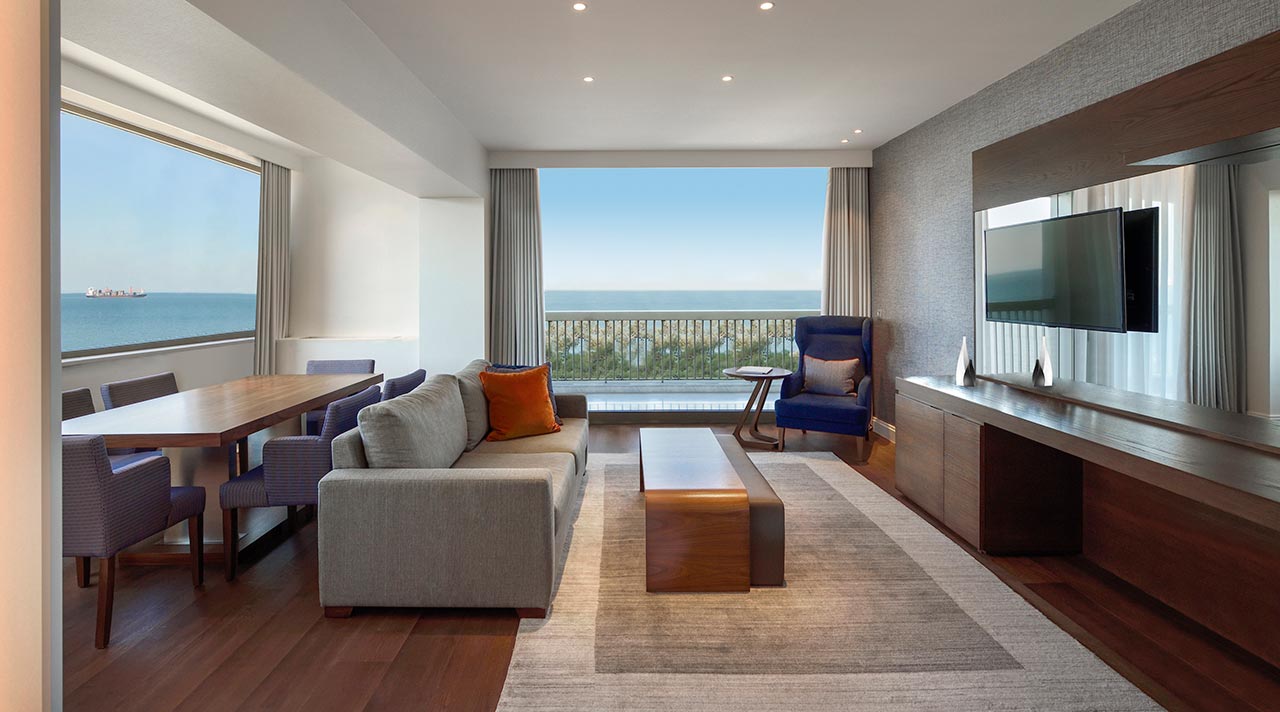 Salonica Restaurant In Thessaloniki Receives The Toque D'or Award
The Salonica Restaurant of Makedonia Palace Hotel headed by chef Sotiris Evaggelou is proud to announce that it has been honoured once again with t...
The Lobby
The Makedonia Palace lobby has been completely renovated, both functionally and aesthetically in order to align with the new enhanced provision of ...